We must look deeper than their acting-out behavior.
We believe that a child's behavior is influenced by his attitudes, and that his attitudes are shaped by his values. In order to realize lasting change with a troubled boy, we must do more than control his negative behavior.
In the Wilderness Camp Program we avoid the "reward and punishment" philosophy used in popular behavior modification programs. In addressing behavior, we focus on the attitudes and values that lie beneath his problems.
Effectively meeting a boy's needs must involve every part of his life, including the physical, emotional, and spiritual realms. For this reason, spiritual values are intrinsically woven into the fabric of daily Wilderness Camp living and are reinforced by our staff as they model the teachings of Jesus Christ. They are displayed in the simplest ways – the love and understanding of a counselor, the forgiveness of one boy to another, and the helpfulness of a friend.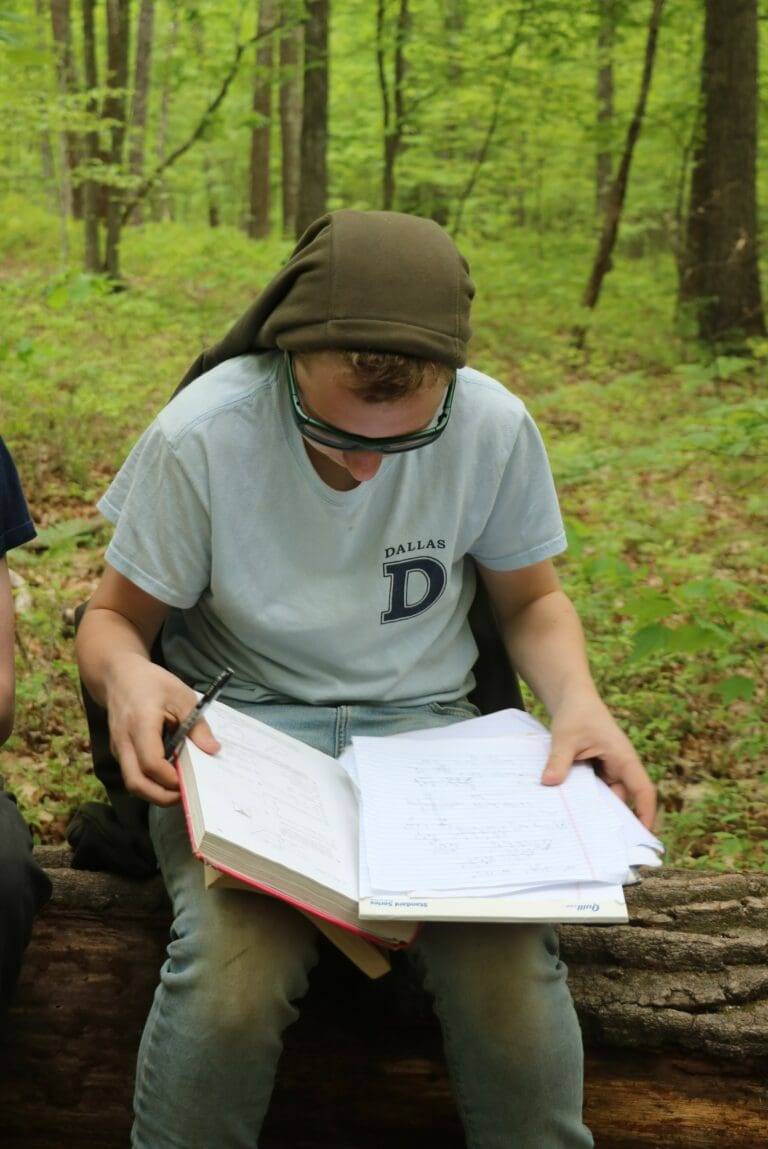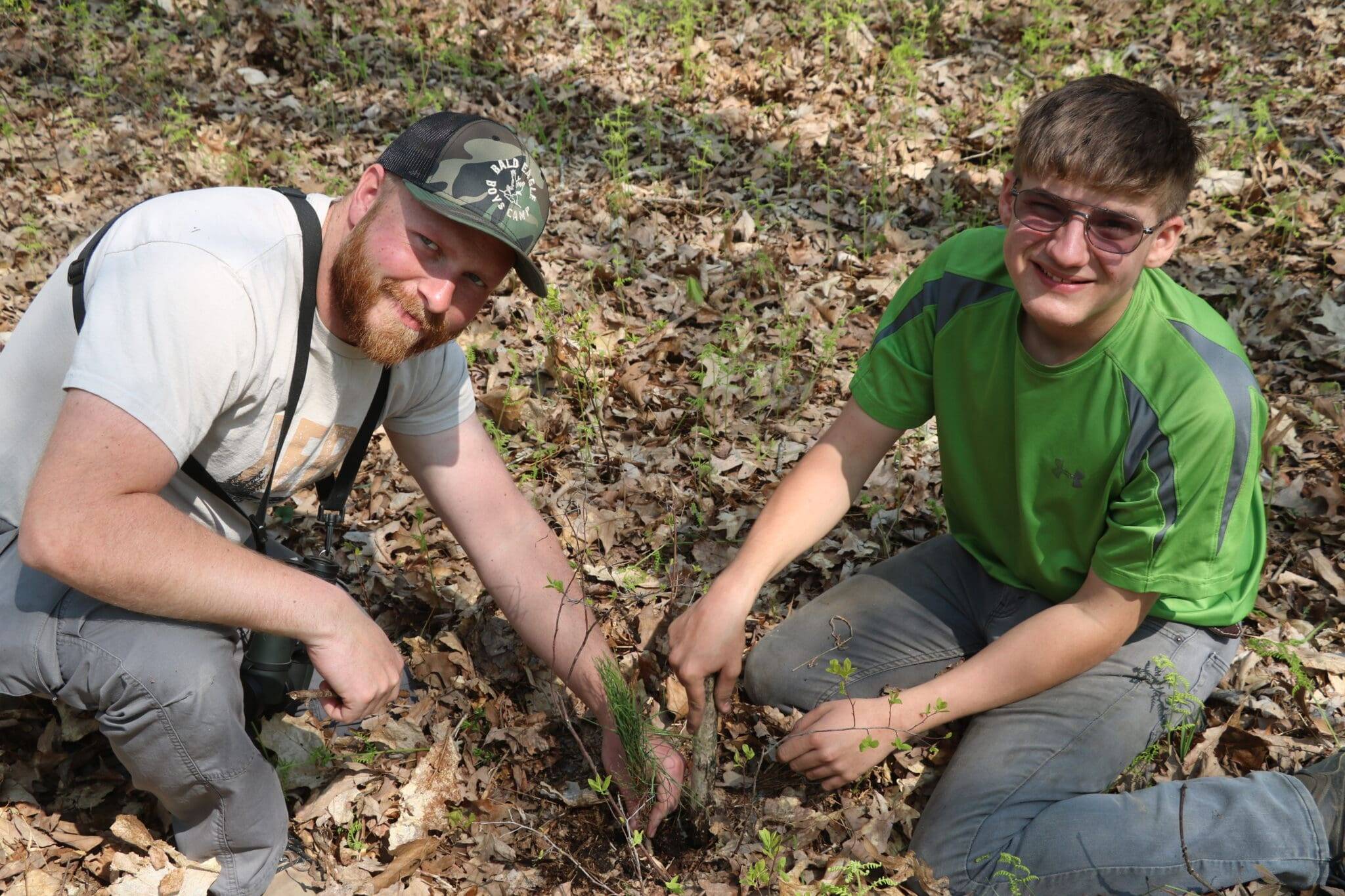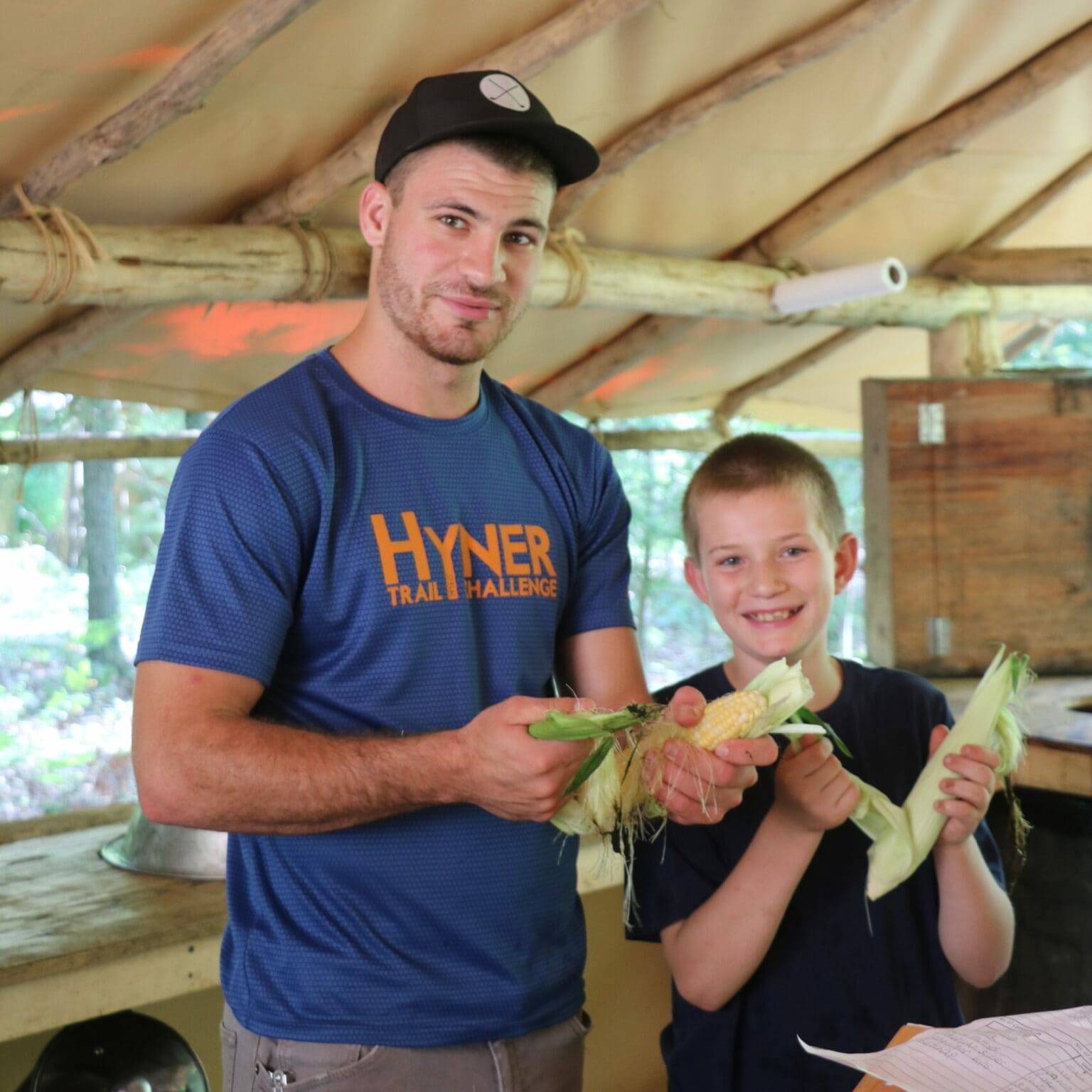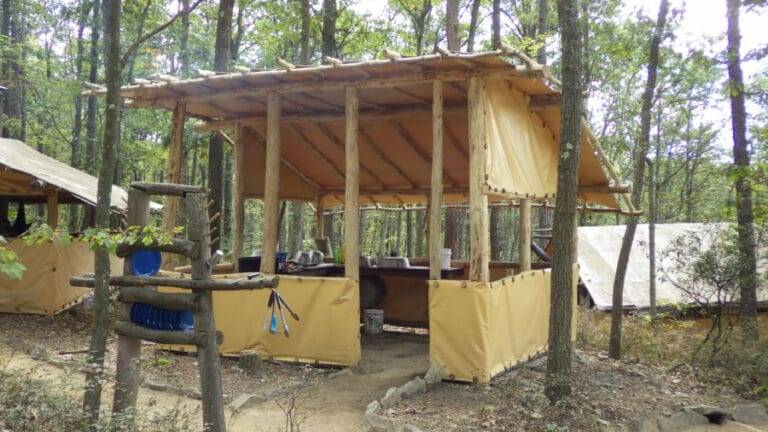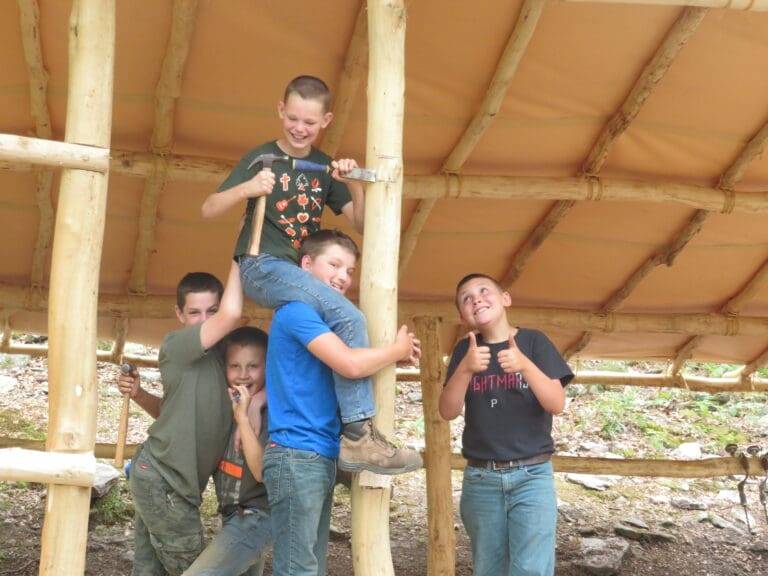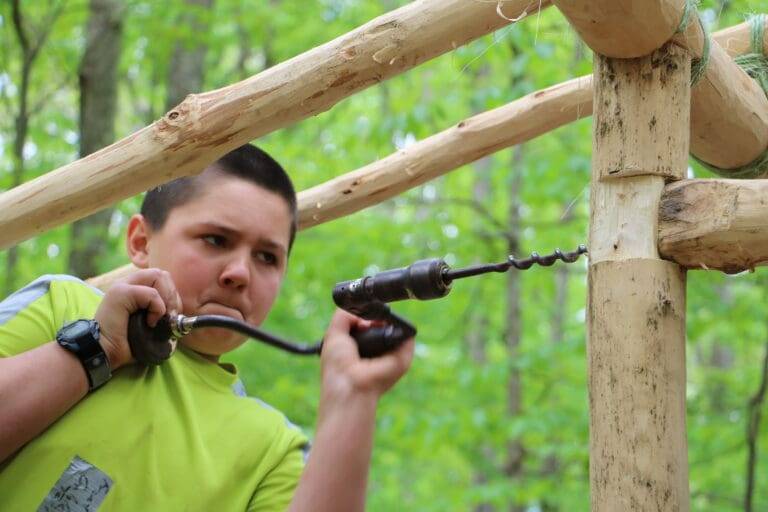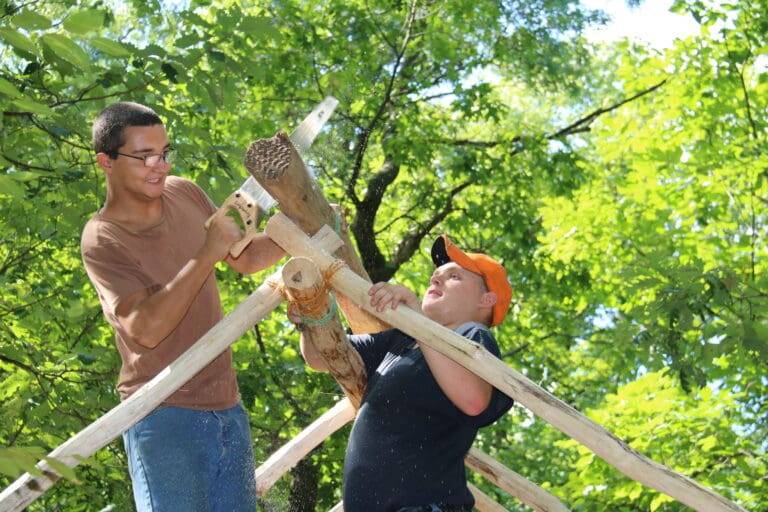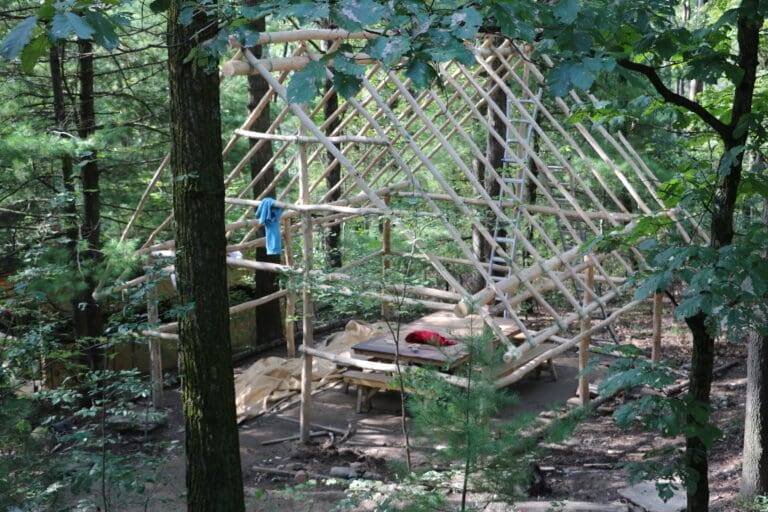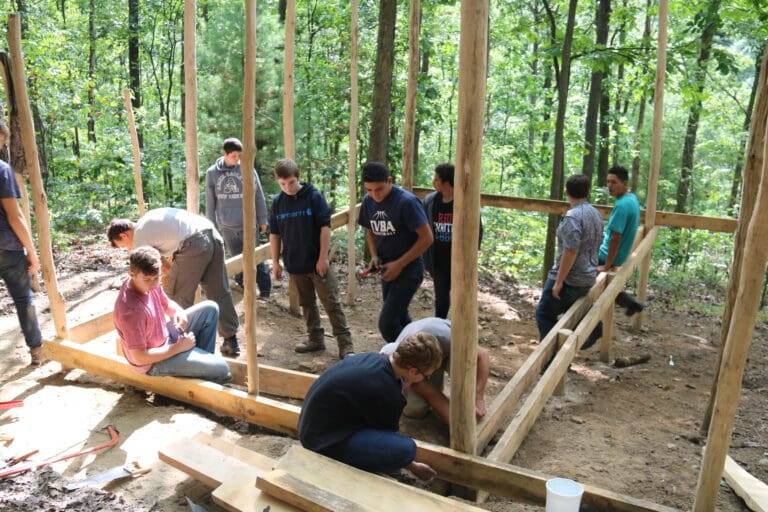 At camp, campers live in wooded campsites consisting of ten tent-like structures. Each tent in a campsite serves a specific purpose—one tent is for cooking, another for dining, and others for sleeping.
Well-groomed trails connect all campsite structures, giving it the appearance of a small village. The tents are built with a pole frame, a vinyl tarp roof, insulated walls, a plywood floor, and a wood stove for heating. Campers participate in all stages of campsite construction including tent design, construction, and trail maintenance.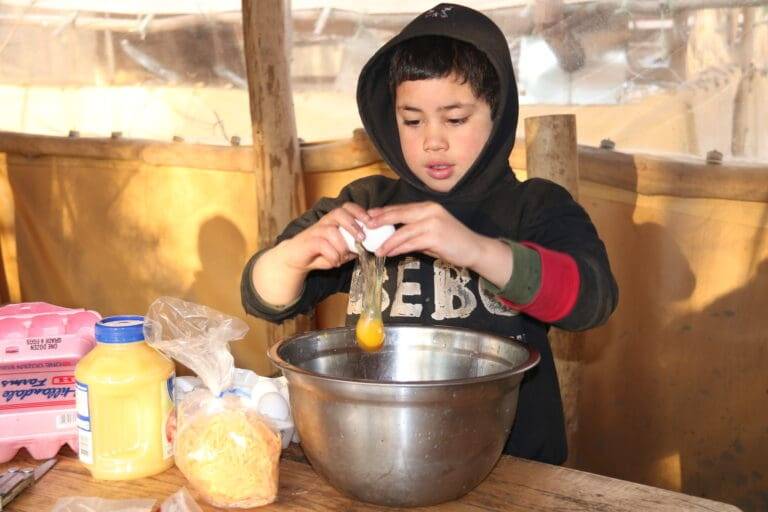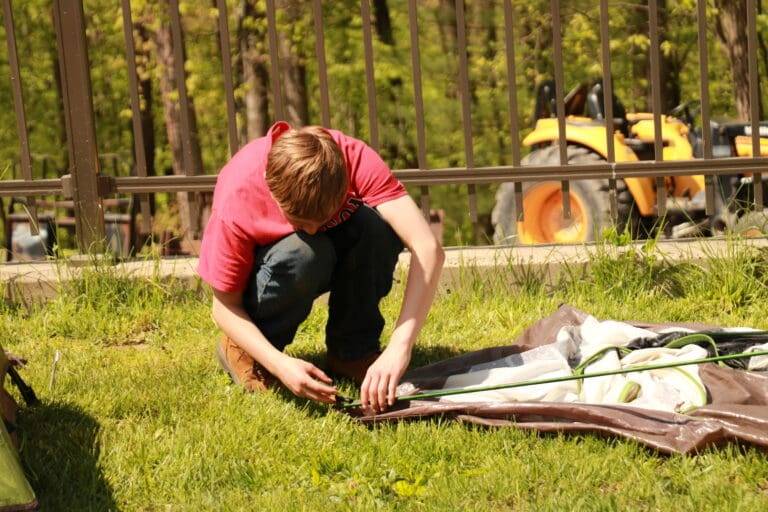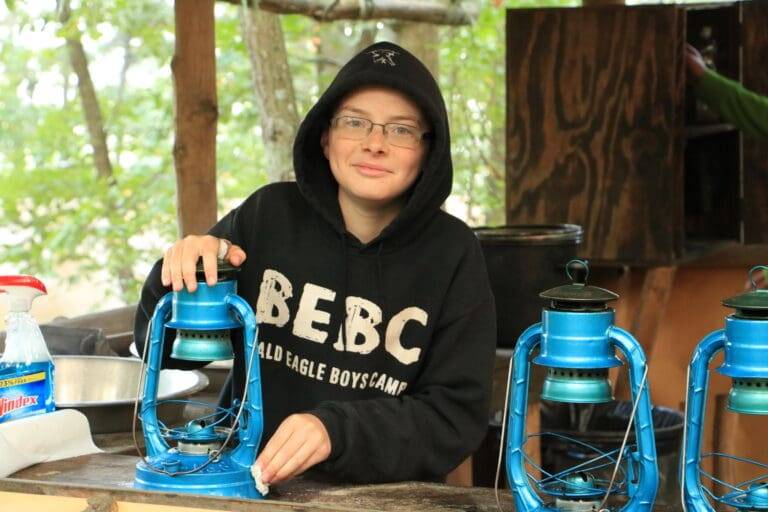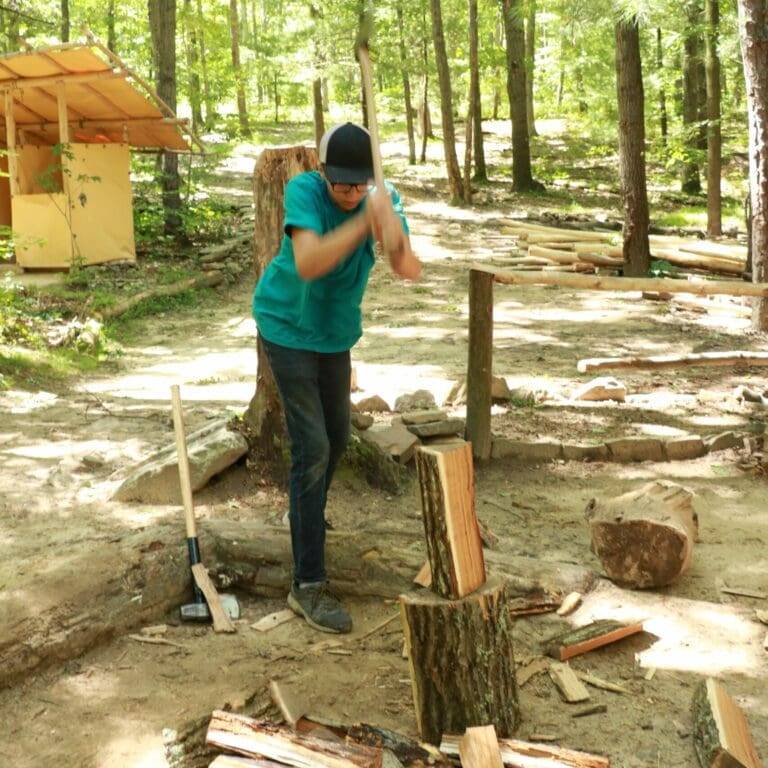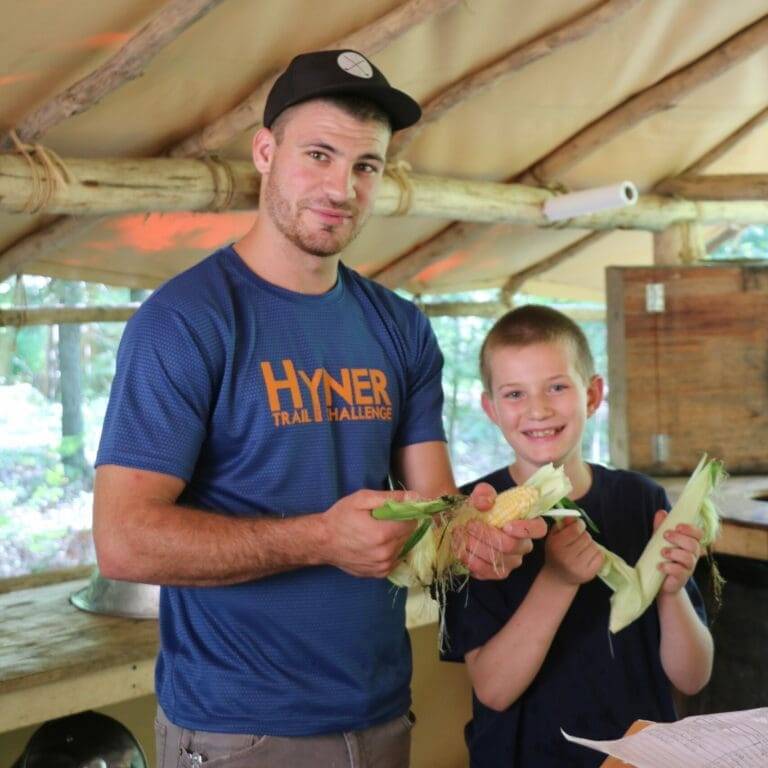 A group's normal day includes activities such as routine cleaning chores, cutting firewood for cooking and heating, playing group games, and campfire cooking. The group does the work required to provide the basic needs of food, clothing, and shelter in the camp setting.
Every camper learns to make his bed, fold his clothing, and keep his living space clean and orderly. Campsite cleaning chores are part of the daily camping schedule. Good hygiene is emphasized in daily bathing and regular teeth brushing. Campers participate in planning and cooking campfire meals twice a week. Every day ends with a group discussion called a "pow-wow" in which the entire group gathers around a campfire and reflects on the events of the day.
The daily camping routines are designed to teach not only camping skills, but also essential life skills such as planning, teamwork and personal responsibility.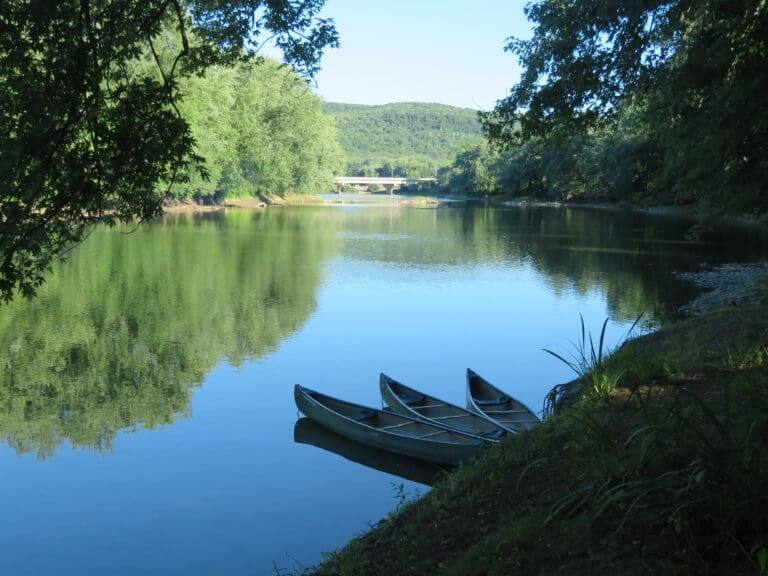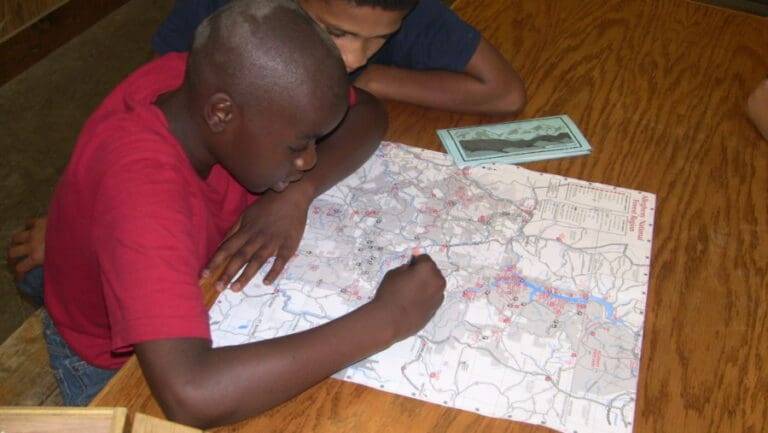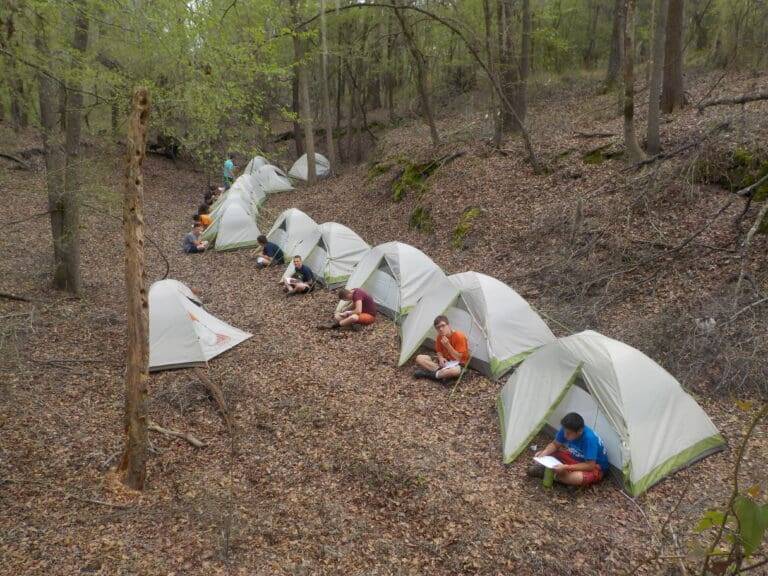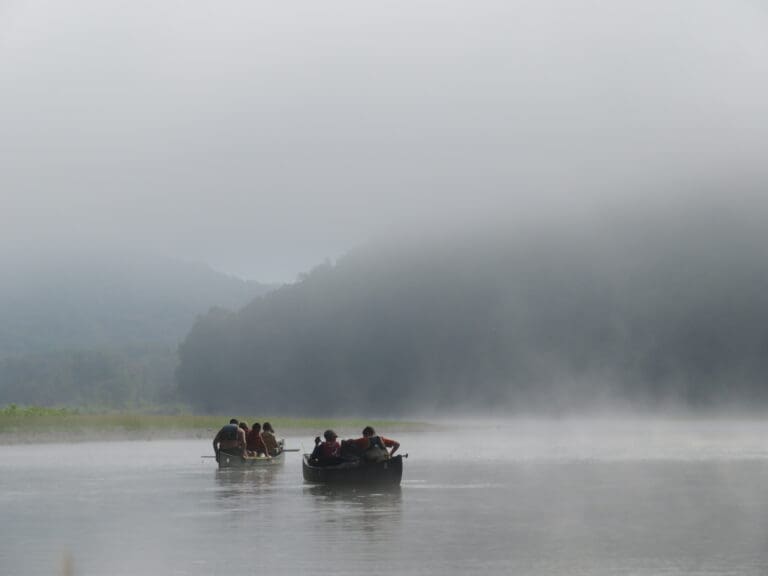 Several time a year, groups participate in wilderness trips geared toward developing camping skills, building group teamwork, or learning about some academic theme. These trips include canoeing, backpacking, or road tours. The duration of the trip may be from one day to three weeks, depending on the purpose of the trip and the ability of the group to carry out the trip responsibility.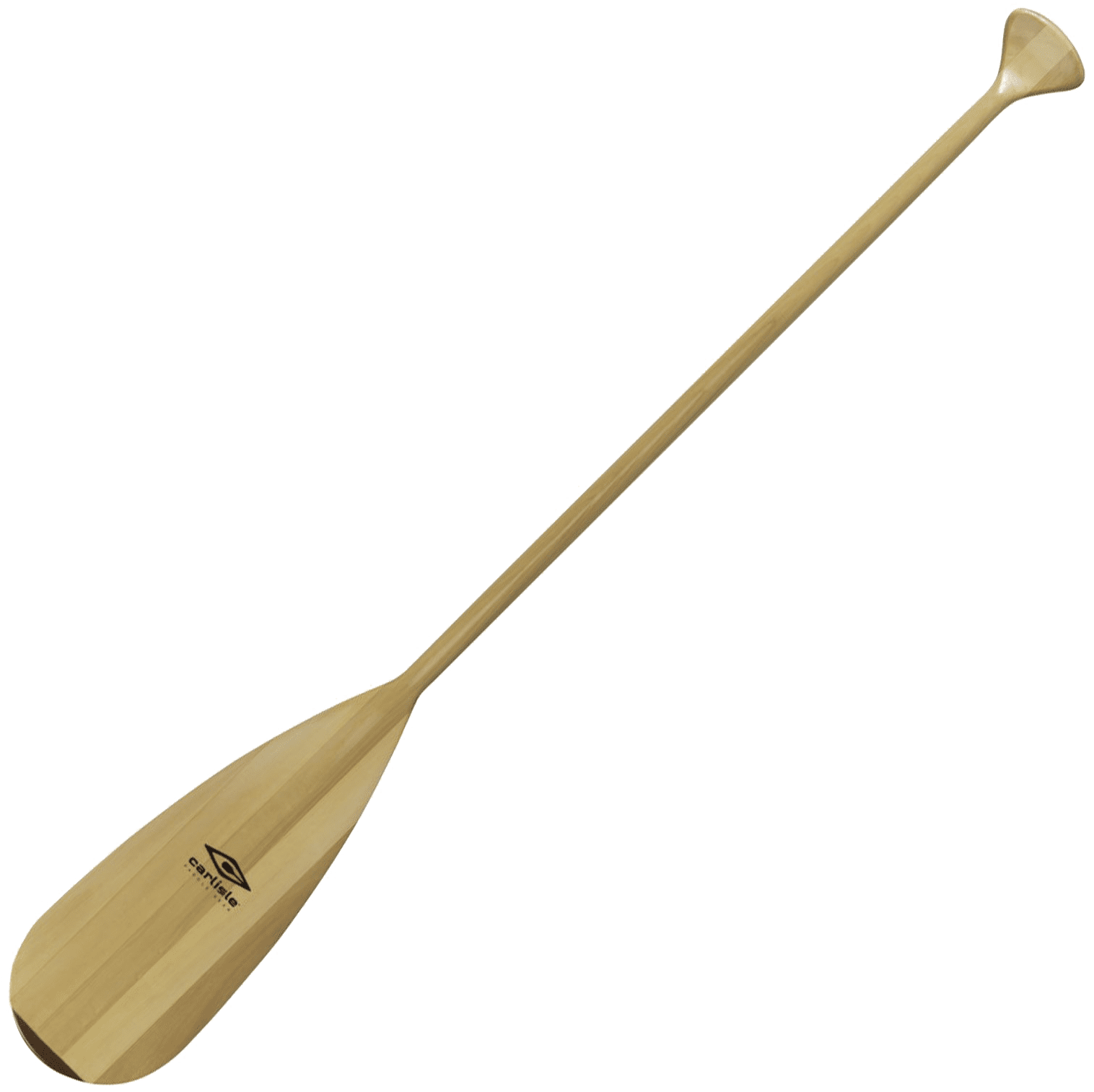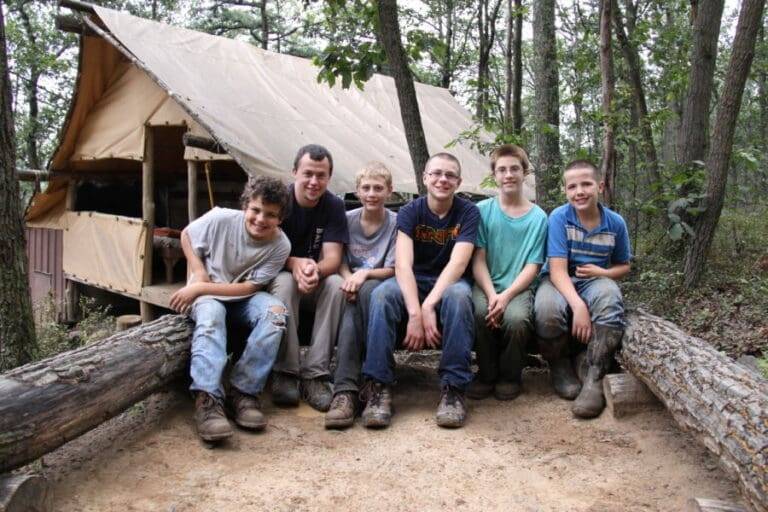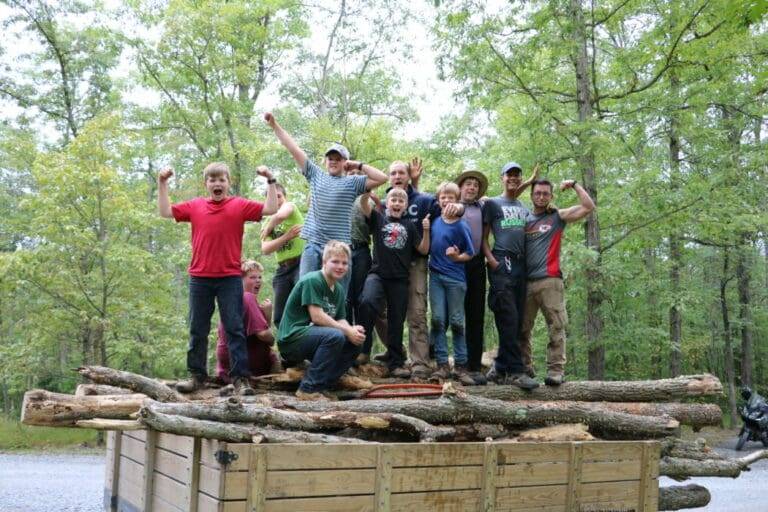 Campers live in groups of up to ten boys under the supervision of two adult counselors in the camp program. A group consists of boys in the same general age level, but with varying backgrounds and different types of problems.
This diversity adds strength to the group work process and reflects the reality of living in a normal community. We aim to maintain groups of four to five members who have stabilized and are able to provide accountability, cohesion, and a positive influence to the rest of the group.
Group living plays a major role in helping a boy achieve lasting change. Throughout everyday situations, a boy's behavior is mirrored in the eyes of his peers. In this way, the group helps a boy to recognize his problems and provides a caring environment in which to address them.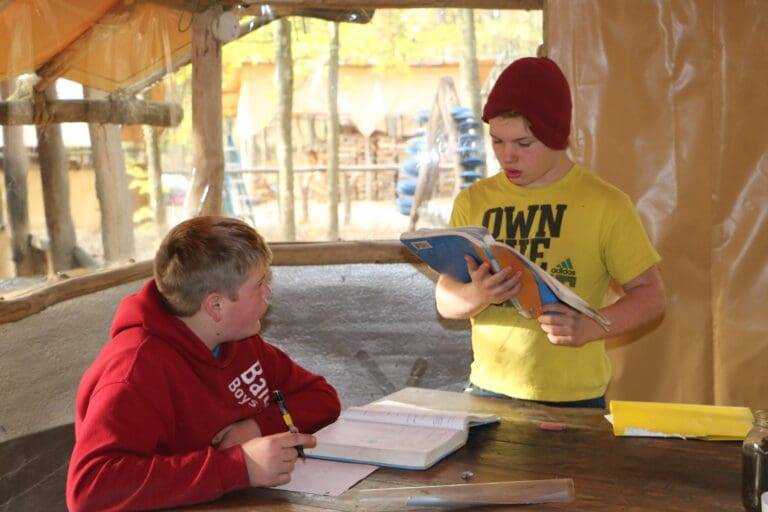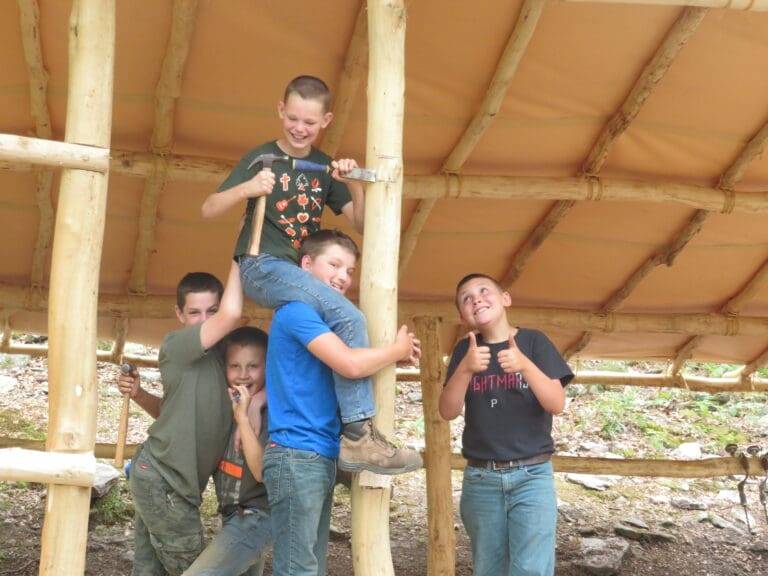 One of the primary goals of Bald Eagle Boys Camp is to provide an atmosphere where problems can be solved. The groups will cease whatever activity – working, eating, or playing – to huddle up and address a camper's inappropriate behavior or negative attitude. The counselors guide the campers in identifying the problem and then finding a satisfactory way to resolve it. This method of dealing with a boy's negative behavior provides a meaningful lesson to the boy in trouble, as well as the rest of the group.
In addition, he acquires a problem solving technique, and a set of values that will serve him well for the rest of its life. As a boy sees his peers courageously dealing with their own problems, he begins to feel hope and inspiration for himself.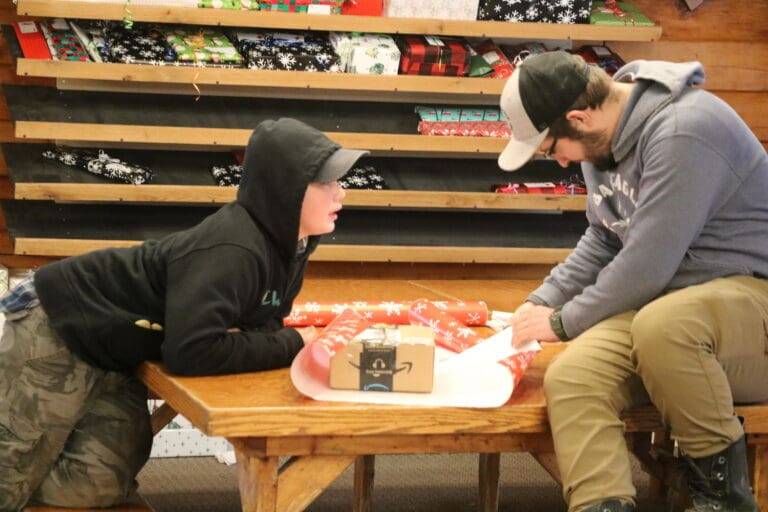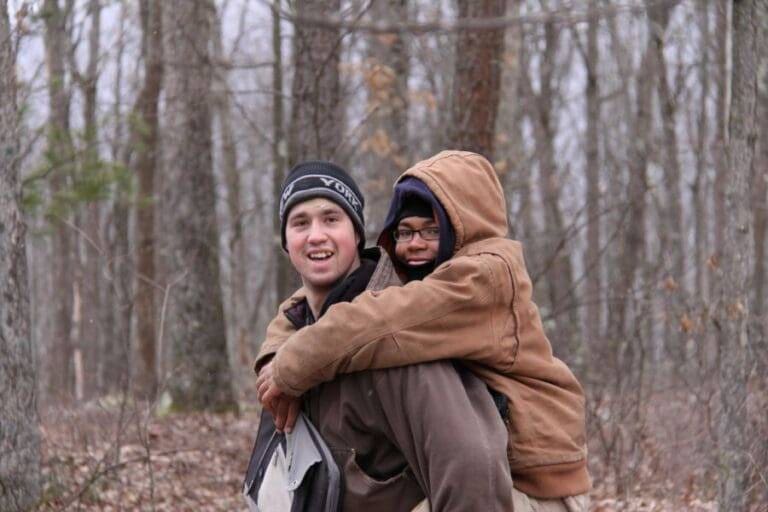 The counselors, called "chiefs", are responsible for direct care and provide the key to meeting the emotional needs of a camper. Because the chiefs live with the boys twenty-four hours a day and join them in all of their daily routines, they become keenly aware of the individual needs of each camper. Their dedication and care provide a secure atmosphere where healing relationships can occur. Building this relationship is not centered around a boy's negative behavior. Rather it is achieved through action – helping a boy make his bed, exploring the creek, constructing a new trail, paddling a canoe – that helps him move toward personal accomplishment.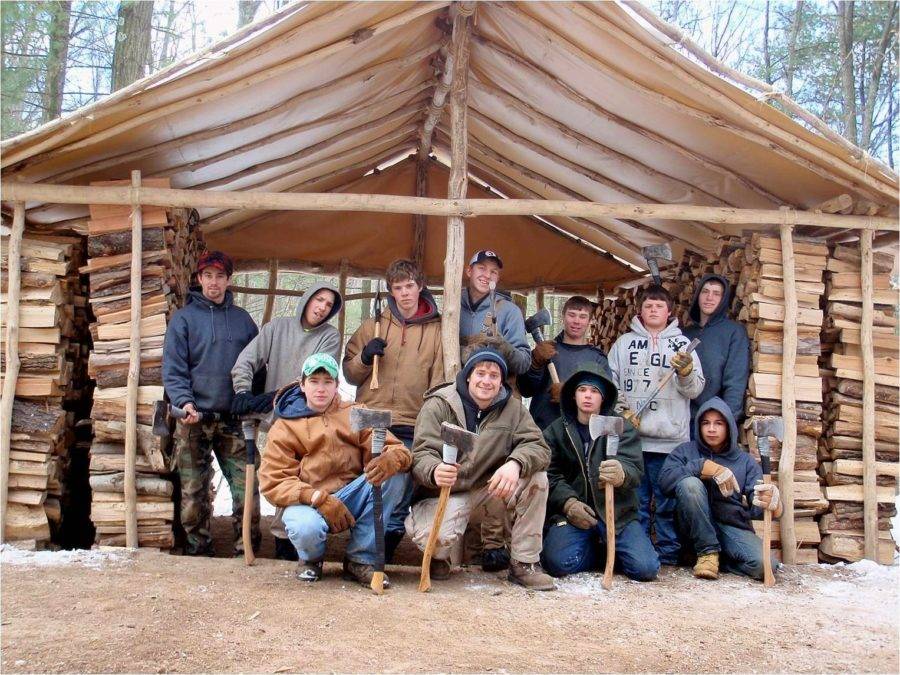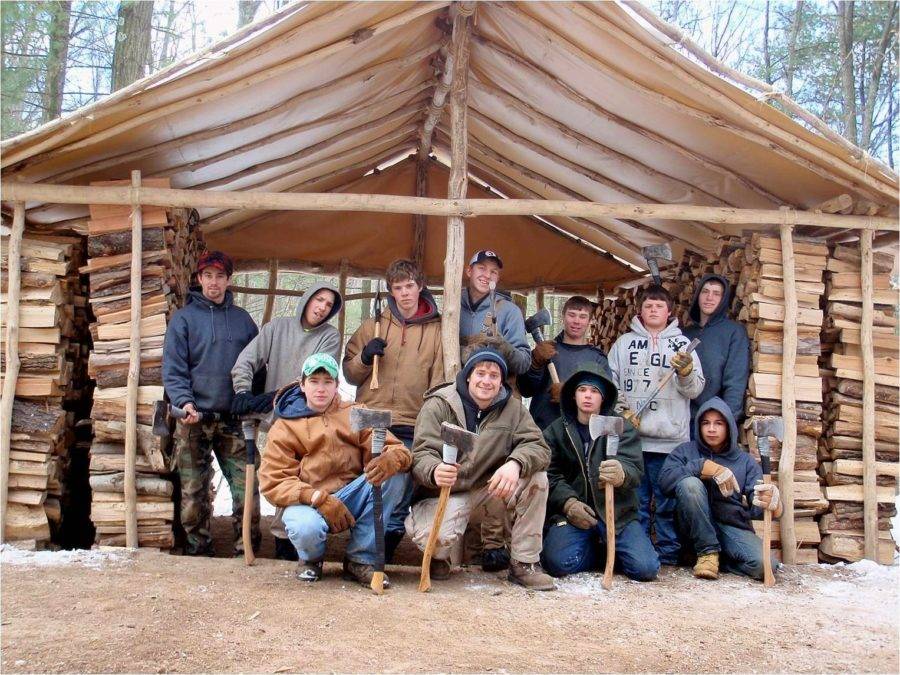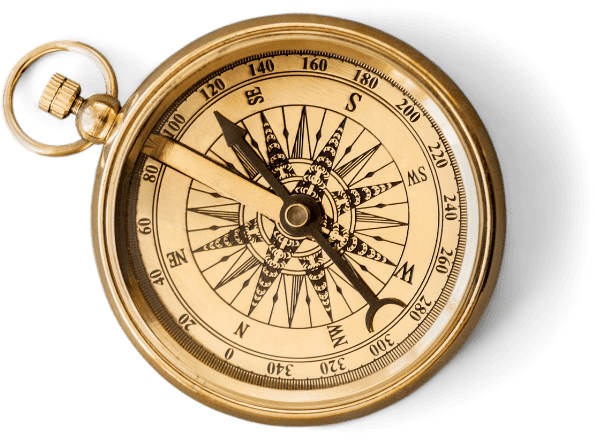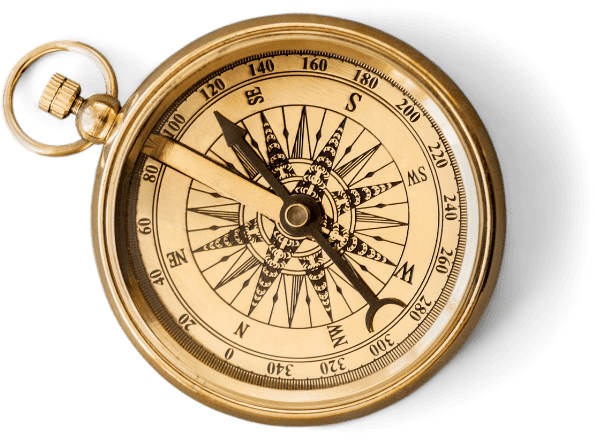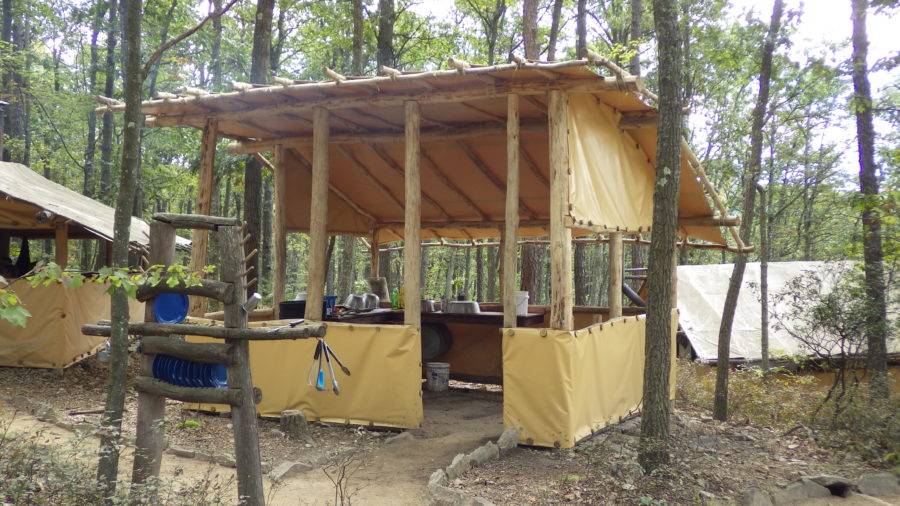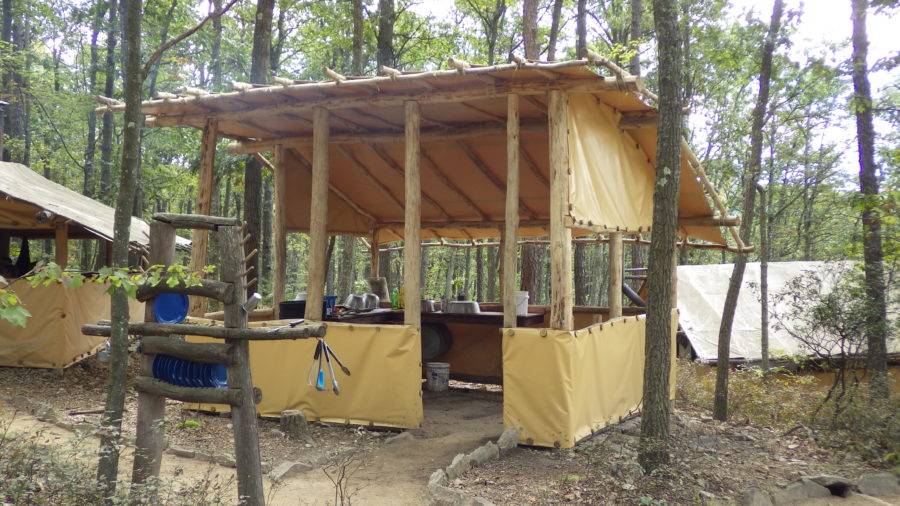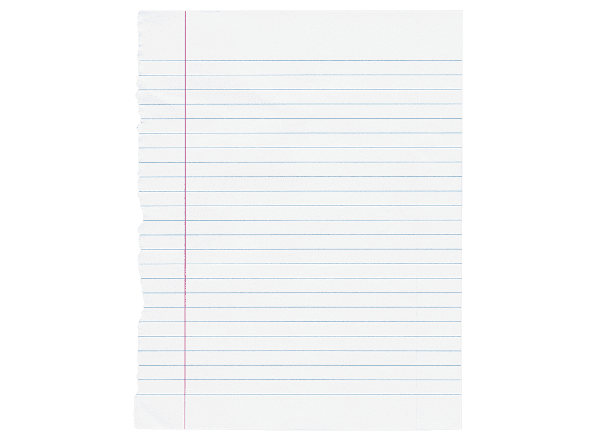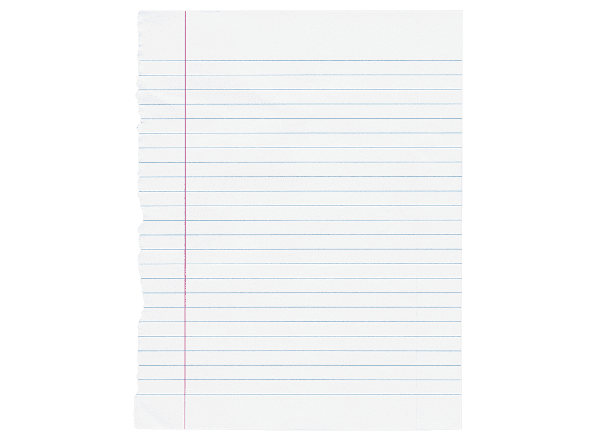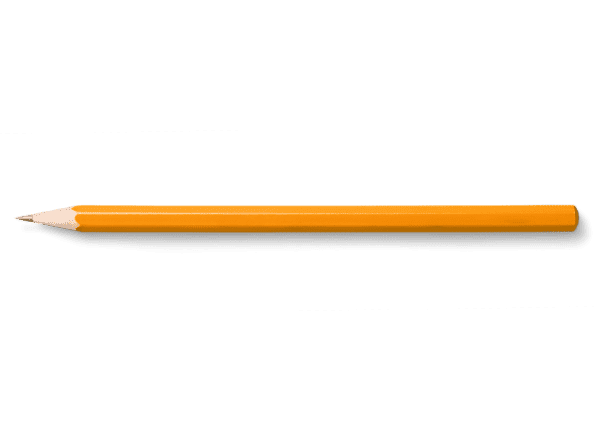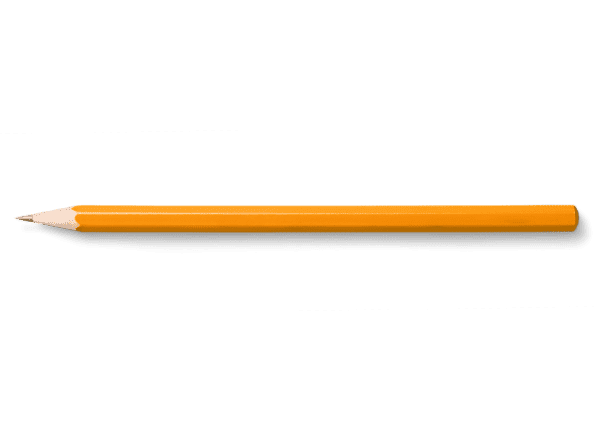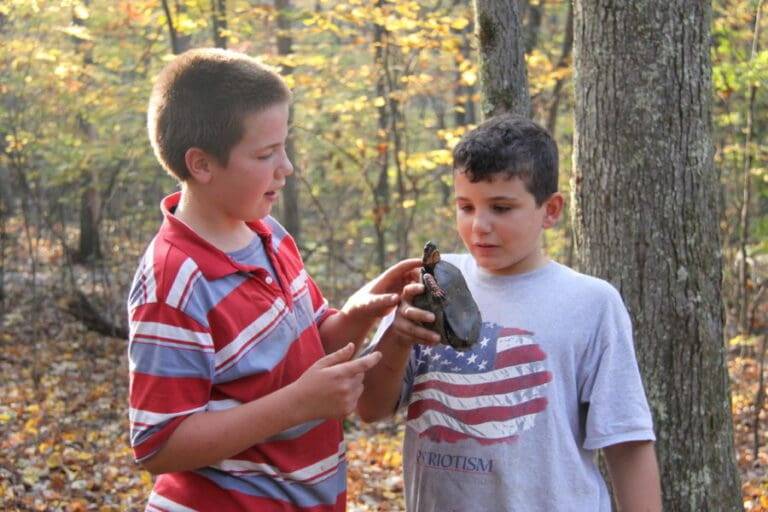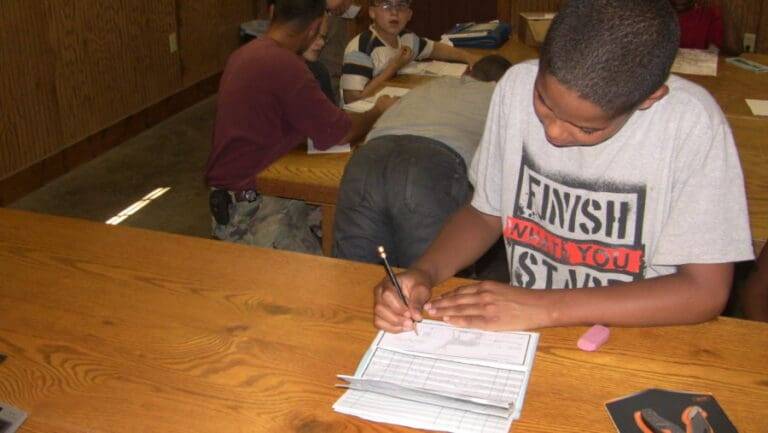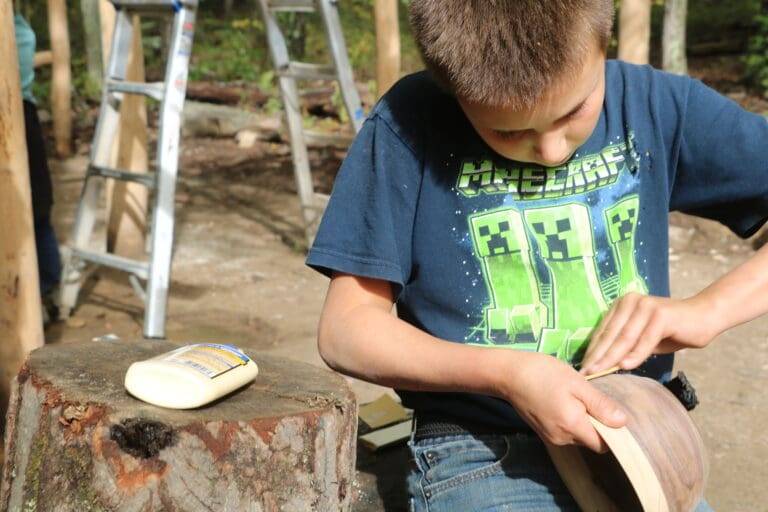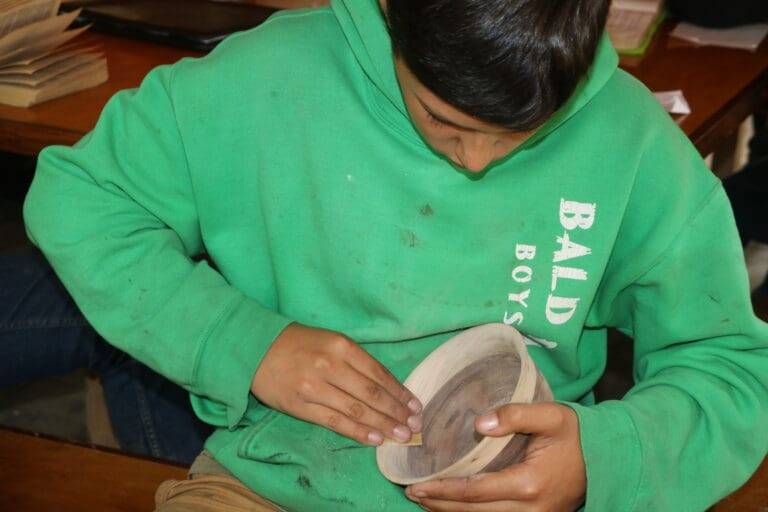 Our wilderness camping program provides an educational experience that is definitely unique.
Because most troubled boys have difficulty learning in the traditional classroom setting, camp education is approached in an informal, hands-on way. Learning is not confined to a classroom, but is an everyday, all-day experience.
Academics are built into the daily routines and activities. Each camper is taught to use practical mathematics in the designing and construction of the tents. Weekly meal planning and cooking provides opportunity to learn about nutrition, budgeting, and home economics. Each week, campers visit the Trading Post, the camp store where they learn to write checks and keep checking accounts. When the group plans the weekly schedule, a boy is required to cooperate creatively with others, and put his thoughts into words on paper.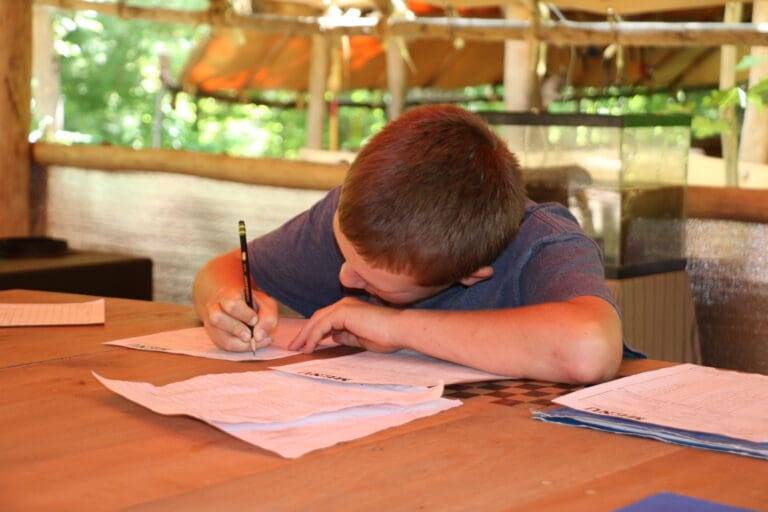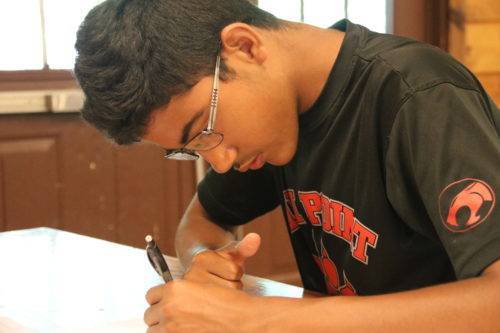 Once a camper is initiated into camp and has mastered the basic camping routines, he is assigned book work based on his individual level. Individual tutoring is provided to campers with a difficulty in certain subjects.
In all of camp learning, there is an emphasis placed on writing. All the writing a boy does at camp – articles, journals, tent designs, daily plans, poetry, drawings, is compiled into a portfolio that becomes his own when he graduates.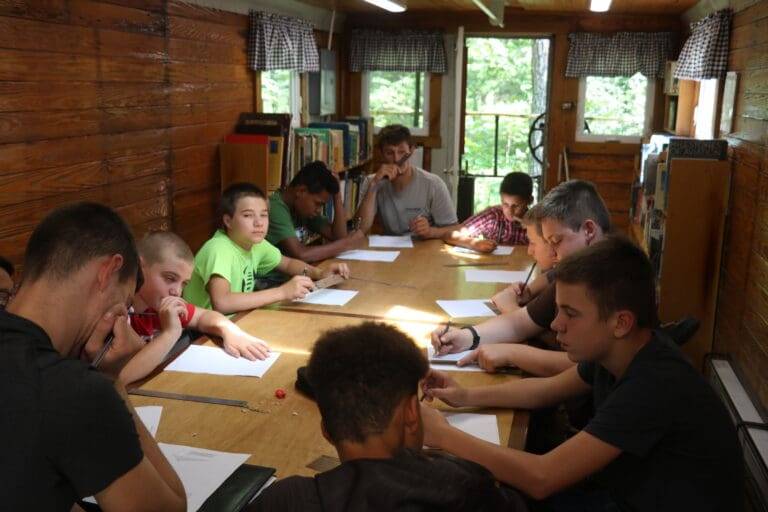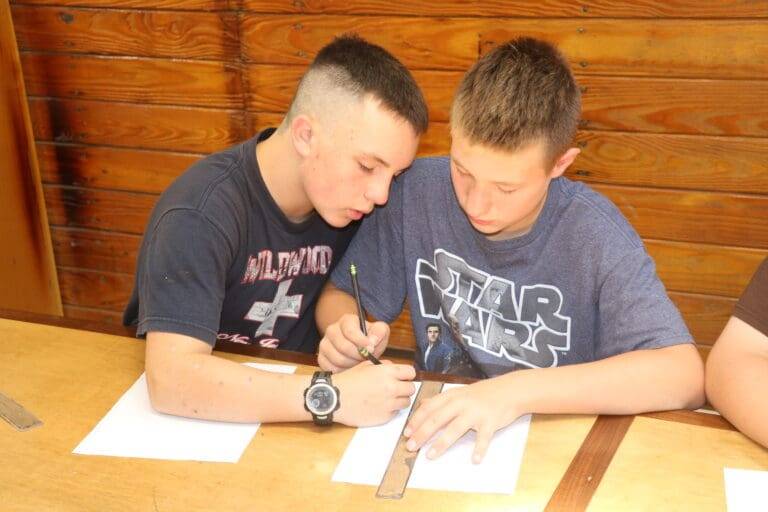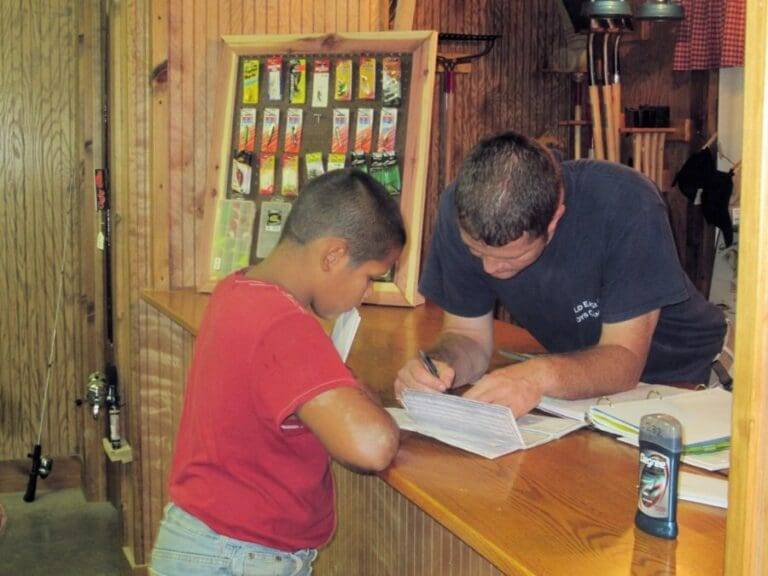 Our academic program aims at preparing a boy to return to a conventional school setting. Upon completing the program, camp staff help the boy and his family create a smooth transition to the standard educational environment. Achievement testing is used to determine the academic progress of each camper during the enrollment period and aids us in placing the boy in the appropriate academic setting after graduation.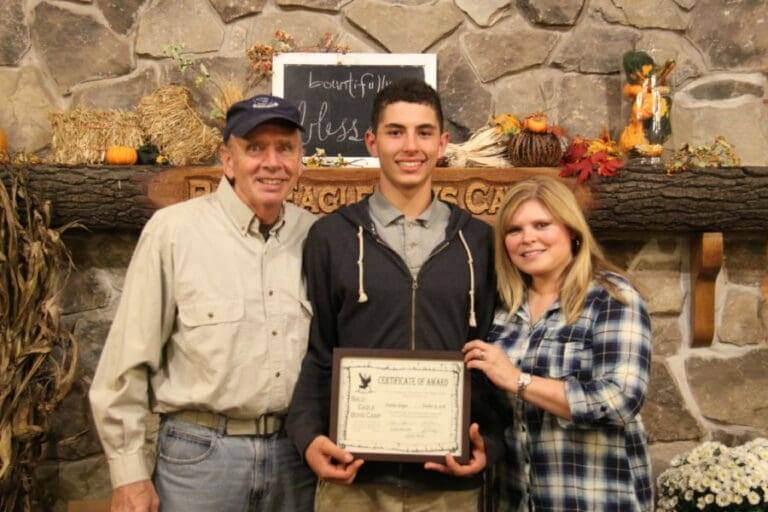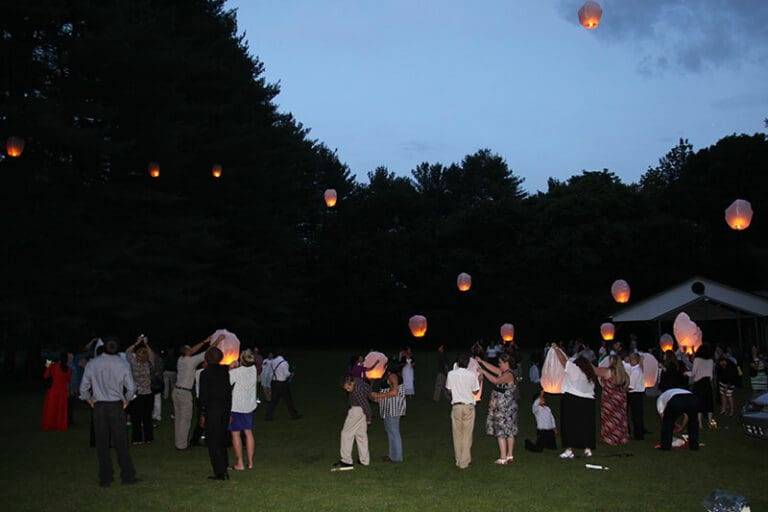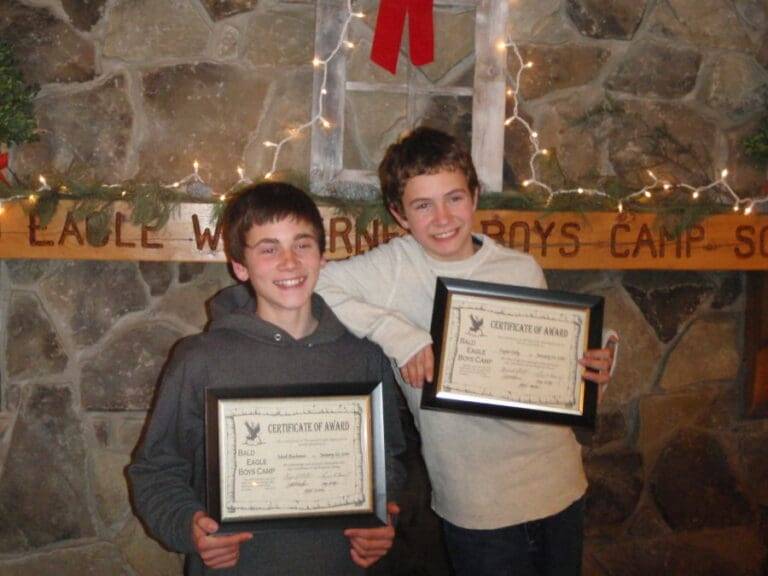 At Bald Eagle Boys Camp, we place a high priority on returning boys to their homes and communities. For this reason, we make every effort to work closely with each family.
Our family workers keep in contact with the parents and meet with them regularly in their home. These meetings facilitate discussion concerning the boy's progress in Camp Therapy, his specific areas of struggle, and how the family can support the therapeutic process of their son.
The boy's family is also required to participate in periodic evaluation conferences held on campus. These meetings engage the counselors, the boy, and his parents in a candid but caring dialogue regarding the camper's problems and progress.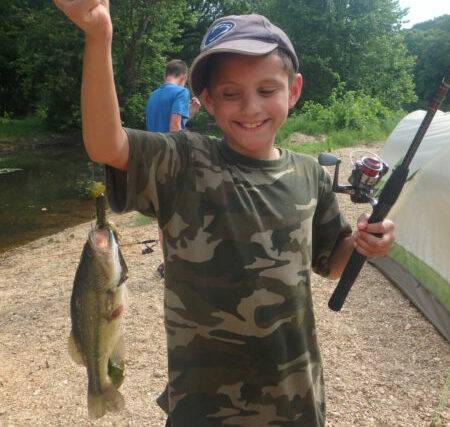 The campers return to their homes and families for a visit every six weeks. This four-day visit is carefully planned and monitored by camp staff and the parents. The home visit gives campers opportunity to apply what they are learning at camp to the home setting and gives camp staff an effective way to measure the boy's progress. In this way, the home visits are an integral part of the therapeutic process.
When a boy completes the camp program, our family workers take an active role to ensure that the boy has a good transition back into the home and school. They also assist with any problems during this transition and are available for consultation as needed.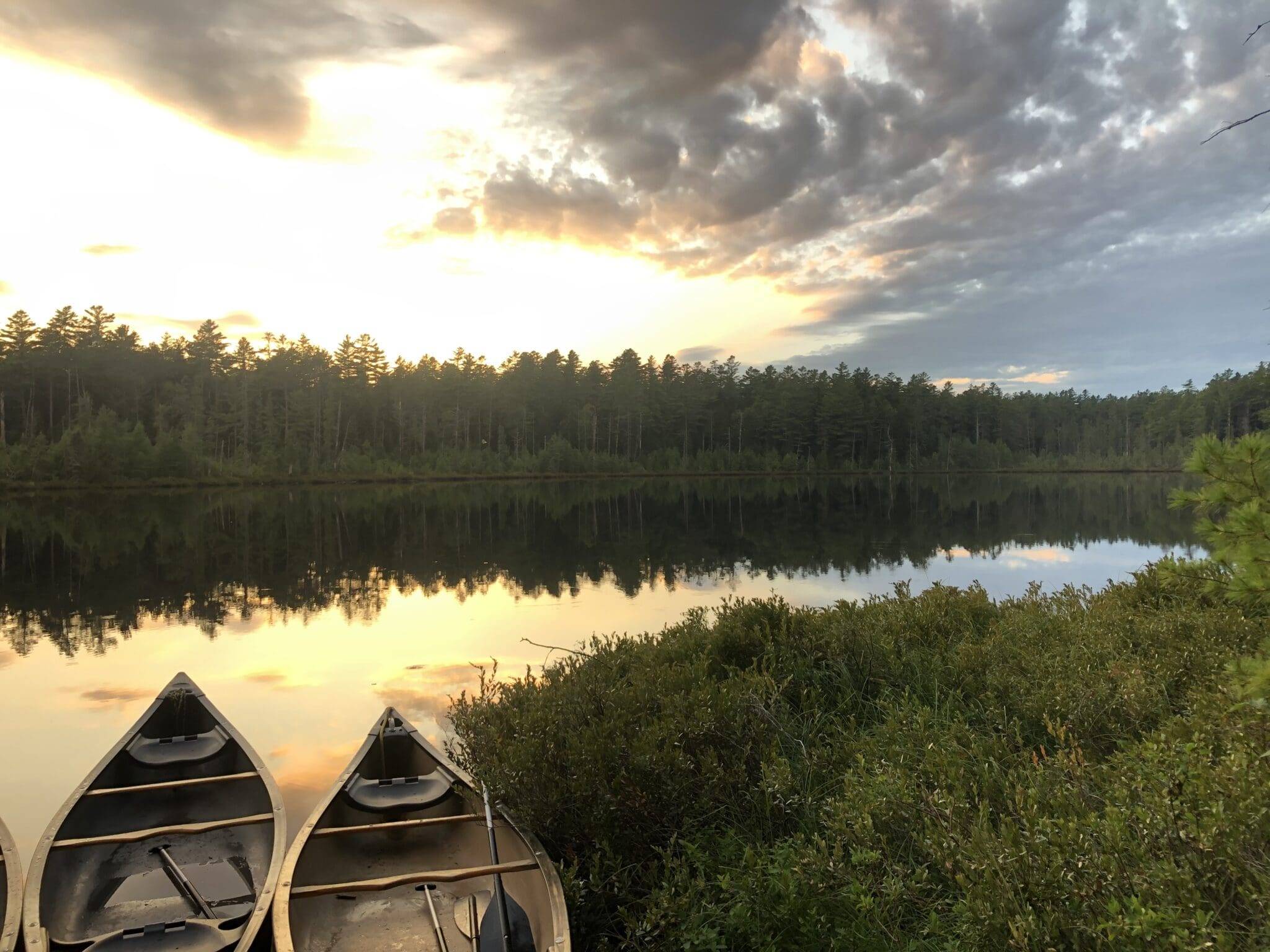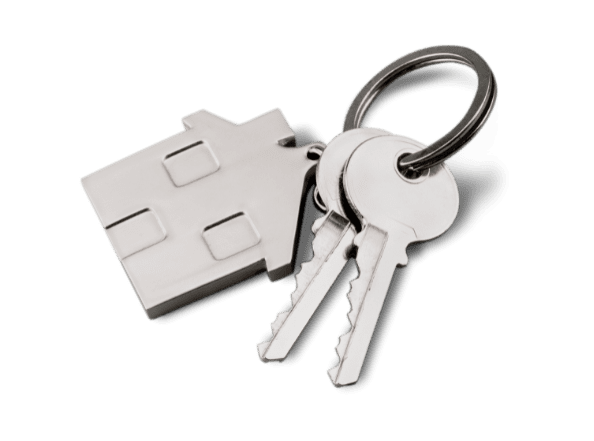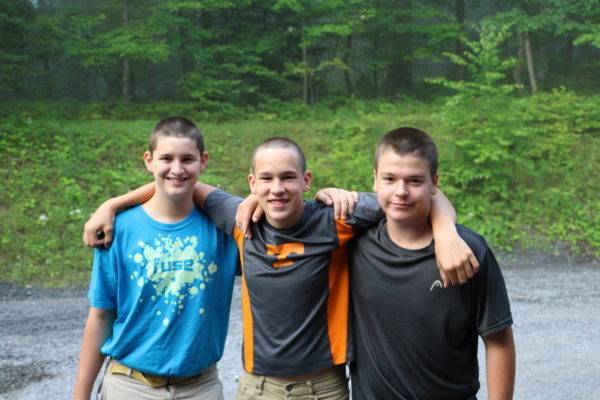 Hear the story behind Bald Eagle Boys Camp, meet the staff and see why we do what we do.